Are you looking for a free keylogger app for Windows devices? Now, there is no need to search more. We've come up with a comprehensive Spyrix review. It is considered the best monitoring and tracking software to look at kids' activities and family safety as crucial.
Spyrix offers a variety of features to keep their children safe from online dangers. Therefore, I found the best solution with excellent spying techniques.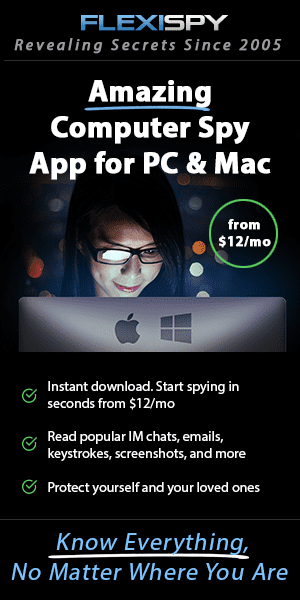 Spyrix can record keystrokes, take screenshots, and social media tracking. This app is saved to protect your loved ones and secure your monitored data.
We also covered two more reviews in recent articles in the form of SecureTeen and EvaSpy Reviews
Let's start a Comprehensive Spyrix Review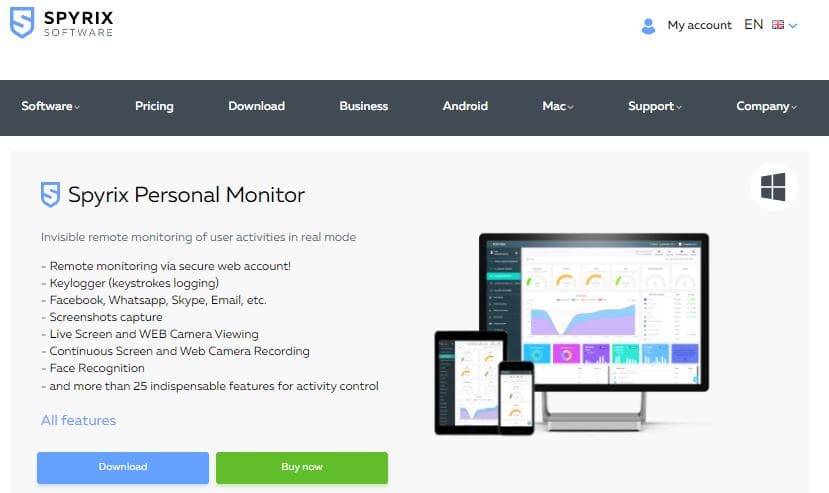 It can help you to monitor your loved ones' online activities remotely. For online protection, it gives you advanced monitoring features that empower you to dig into someone's digital devices. You can choose its free and paid plans to get advanced monitoring techniques. This app does not offer any free program for Android devices. So, if you want to know more about Spyrix, read below.
| | |
| --- | --- |
| Key Aspects | Remarks |
| Free plans | Yes |
| Refund | 14 days money back guarantee |
| Supported devices | Windows and mac |
| Customer Support | Yes |
How Does Spyrix Work?
Choosing the best app depends on its work. Let's review how Spyrix works. It keeps remembering that it is a free keylogger app that can be downloaded to the targeted device from the internet. After installation, its keylogger can check and capture every key type on the targeted device and enable it to take screenshots of the device screen. After tracking the targeted device, you can see the monitored data from the Spyrix online dashboard. This software lets you easily monitor your kids' online activities and spy on your spouse and employees. Read the further details and learn about its installation procedure on targeted devices.
Here is the Signature Features of Spyrix App
Spyrix offers limited features that enable you to track your loved ones' online activities and make it possible to find online action secretly. So, look at the below and its features. Let's start it.
Spyrix Keylogger for Mac and Windows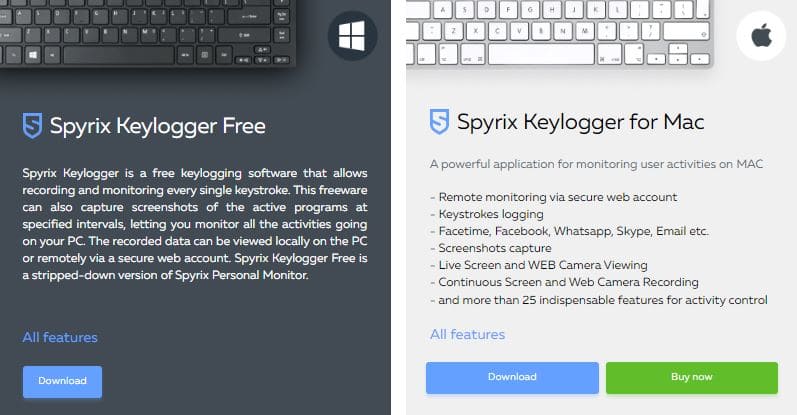 Spyrix keylogger lets you capture and record the critical logs from the targeted device. It works smoothly, provides accurate results, and enables you to know what your targeted person is type and for what. It types keys and can record space, backspace, and enter buttons. Plus, it shows the keys with date and timestamp. Overall, the fantastic thing is that it is a free keylogger and allows you to check someone else's computer remotely and secretly.
ScreenShots
This application comes with another unique feature after the keylogger screenshot. It remotely captures the screenshots of the targeted device. After taking the screenshots, you can see them by logging in to the Spyrix online dashboard and clicking on the screenshot to see them in front of your eyes.
Clipboard Value
It is an extended feature of the keylogger to record all the words copied and pasted from the targeted device. As the same keylogger, seeing everything copied and pasted is fast and accurate.
User Activity
This spirit feature tells you the activity report from the targeted device. It defines how much time is spent on a targeted computer screen and enables you to show a full activity report.
Social media Monitoring
By installing Spyrix, users can easily track the social media activities of a targeted person. You can check WhatsApp, Facebook, Skype, Viber, Snapchat, and Instagram to see its chats, calls, shared media files, and more.
View searches on search engines
This software allows users to support different search engines, including Google, Yahoo, Mozilla, and others, to determine what your target person is searching for on these platforms.
What are the Pricing Plans of Spyrix App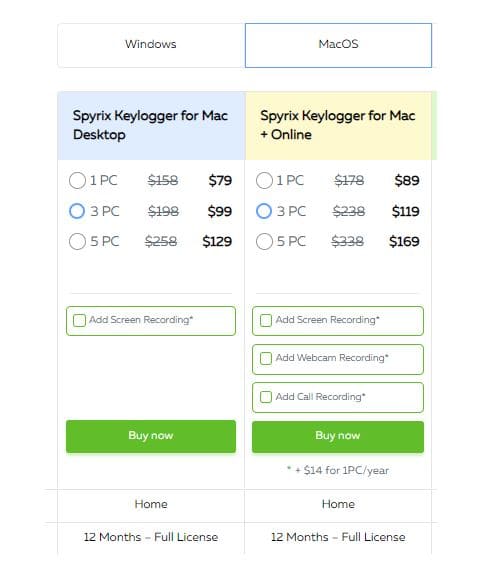 Spyrix comes with multiple price packages for different devices. This offers separate price plans according to your devices and schedule. It offers methods for Android, iPhone, Windows, and Mac devices. It provides its services after subscription, based on the number of devices you will monitor. You can choose one Windows 1-year package for $69, 3 devices for 1 year for $79, and 5 devices for 1 year is $129. The prices increase or decrease quickly; keep check according to the new updates.
You can choose MacOS devices as 1pc for $79, 3pc for $99, and 5pc for $129, these are all prices for a 1-year subscription with the features of webcam recording, social media monitoring, screen recording, capturing screenshots, and other.
About Spyrix price "affordable or not"?
The Spyrix is not available for cell phone devices. So, they charge a little expensive package for computer devices. At the same time, it charges a low cost for 5 Pc so, we can say it is not too expensive to purchase.
Spyrix's Compatibility
This is only offered for Mac and Windows devices to track the online activities of your loved ones. It provides excellent free keylogger functionality for the latest version of Windows 11 and Mac Ventura devices to check other online activities. If you want to monitor cell phones, it won't work.
How's Spyrix Customer Support?
Not 100% satisfied
Spyrix's customer support services are not as good as They should be. Whenever customers send emails and want to discuss their matter- they don't respond, well Sometimes they respond quickly, and sometimes they reply too late which leaves a bad impact. Even though they claimed to get their money back, they didn't do it. So, the majority of its customers have bad reviews about their customer support team and are not fully satisfied.
| | |
| --- | --- |
| Pors of Spyrix | Cons of Spyrix |
| Offers free keylogger for Windows devices | It is not available for smartphones |
| Capture schedule screenshots | It has a few monitoring features |
| Monitor social media performance | Installation procedure lengthy |
| Check visited browsing history | Customer support is not as i expected |
What Spyrix Customer Ratings in Sitejabber and Trustpilot
Sitejabber Rating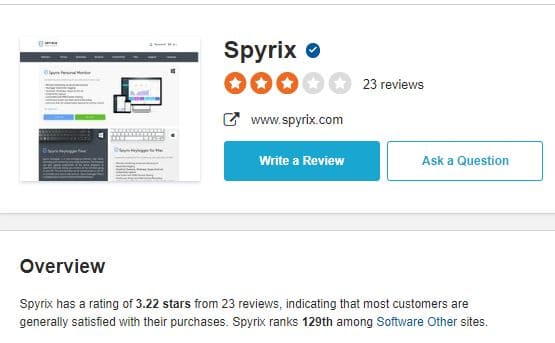 Trustpilot Rating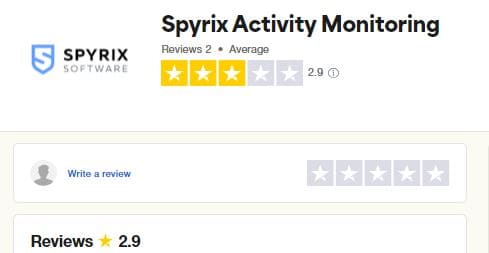 Is There Any Alternative To the Spyrix Monitoring app?
Overall, Spyrix is not included in top monitoring applications due to its drawbacks. According to monitoring, it provides a free version, but its paid plan little expensive for 1 device and affordable for 3 or 5 devices. However, it never hides on targeted devices; the user can see the Spyrix app icon on their device. Plus, its installation method is a bit tricky and difficult for beginners. So, we have another better alternative which help you as much as you want and according to your choices. Which is called Spytechweb and further converts into multiple products like SpyAgent for Windows and Realtime-Spy for Mac, Moreover, all the latest versions of Windows and Mac work smoothly.
This app is similar to Spyrix but is easy to download and install on targeted devices. Plus, users can install It on their targeted smartphones and computer laptop devices without knowing the targeted person. It means this app is completely undetectable on targeted machines. Further, this app has a wide range of features to track the devices and find all their activities, including their physical movements, by GPS tracker. So, we recommend you choose another option with a whole house of qualities and better monitoring.

First, download the app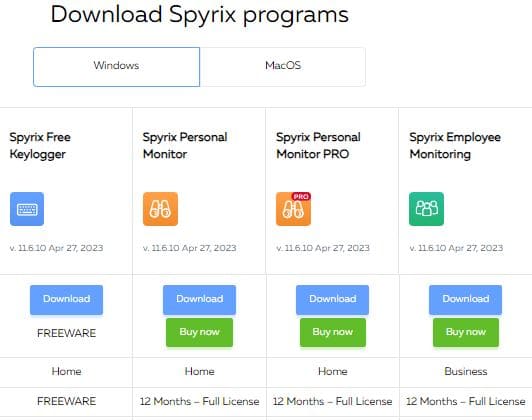 Users can download the app for Mac and Windows "click here download Spyrix". Choose a program and press the Download button.
How to install the Spyrix app
Once you download it. Press on the downloaded file to run the installation. And now, press "Yes" when prompted by the system.
Now select the language
Press on the Next button
It's time to decide. I accept the agreement and click on the Next
Press on the Install button and wait to accomplish the installation procedure.
Move to the following and press Finish to complete the installation. Then, the app will automatically be launched.
Set wizard
After installing the app, you've to launch the Wizard setting. If you don't want to do any settings, you can use the "Skip Wizard" option. It is highly recommended not to skip it and configure all the settings. The arrangement takes some time.
Web connection setting
Review the next to Online monitoring via a web browser to make it enable.
Put your email address, wait for the app to check, and press the Next button.
Then, a new window will open, and push the OK button to create your app account.
If you did everything perfectly, then you will see this message.
"You should go to your email and activate your account"
When you press on the account activation link. you must set up your account password to login to the account.
Then, you will receive the first data in your account within moments.
Press the "Next" to go to Step 2 in the Wizard settings. Select the Hotkeys to get the app as the invisible mode or exit them by default. Then, make a password to start the app.

Set the number of screenshots and select when they should be made.
Select types or certain websites you need to be blocked.
Choose social media apps that you want to keep an eye on.
Choose how the program will be invisible on the target device. Also, review all users you want to monitor.
Start at the Windows startup box if you want the app to operate automatically.
How to register the app and get the license
To register your license, press on the About
Now, put the license activation code.
How to put the license on an online dashboard
Open the online dashboard, press your email in the right corner of the screen, and choose Account from the drop-down menu.
Put your license type and code and then press for Register account
If you have registered a Spyrix account
Open the app. Go to Settings > Log Delivery > Online Monitoring tab.
Check the box next to Online monitoring through the web to enable it.
Join your account by entering your email address, waiting for the program to check it, and connecting to Next.
If you have entered your details correctly, you will see this message:
"You will receive the first data in your account in a few minutes"
How to set sending logs via Spyrix Security Inc
Open the app. Go to Log Delivery. Pick the Email and put a click near Delivery by Email.
Then, in the "Via Spyrix Security Inc window in the Email field, enter your mail, ensure the Delivery time, and select what you want to receive a file. By default, it is CSV.
How to set sending logs to email
You can also set sending logs to Email through your mail. For this, click the User settings to do it. Then, you should enter your Email SMTP/Port, User Name, and Password. After that, click Apply and Test.
Why Do I Like Spyrix?
One of the most impressive features that attract users is the offer of free price plans. Plus, I tested its keylogger feature, which works amazingly and provides quick monitoring results. You can choose and use its additional monitoring features, such as social media monitoring, browsing history, and screenshots with a price plan.
Which things I Don't Like in Spyrix?
As we tell you, it provides a free version. But the most important thing that I don't like is that it is detectable; users can easily find this spy app on their devices. It takes time and is difficult to install at the time of installation, but after some time, you may realize it's a waste of time and money.
Is Spyrix a Worthy app?
At the last stage of this app review. People may wait for the final words and essential question: Is it worth using? As we define, Spyrix is one of the best Windows free keylogger apps that is used. It is free, so everyone can easily access and find their loved ones' digital footprints. If you are searching for an app for keyloggers, we recommend that there is no better option instead of this. While choosing the app, keep it first in your mind.
Conclusion
In the Spyrix review, we describe each and everything after testing. And I try to cover every corner of this app from good to bad. Moreover, there is an alternate option for you that fulfills all your monitoring requirements very well.
Frequently Asked Questions (FAQs)
Is Spyrix legal to use?
Yes, Spyrix can be legally used, but it's important to respect privacy laws and inform users when monitoring their activities. Be sure to use the software responsibly and ethically.
Is Spyrix a Free monitoring app?
Yes, Spyrix offers a free keylogger feature for Windows. It even allows you to subscribe to a paid version with additional features.
What Is the Best Free Keylogger?
After testing many apps, I found that Spyrix is the best for a keylogger-free app.
What platforms does Spyrix support?
Spyrix is compatible with Windows and macOS operating systems. It offers monitoring solutions for desktops and laptops running these platforms.
Is customer support available for Spyrix Users?
Yes, Spyrix provides customer support to assist users with any inquiries or technical issues they may encounter while using the software.
Can Spyrix be detected by antivirus software?
Spyrix employs sophisticated techniques to avoid detection by most antivirus software. However, like any monitoring software, it may trigger alerts in certain security applications.
Is It Illegal to Put A Keylogger On Your Loved Computer?
It's legal to monitor your kid's online activities for safety purposes and to put keyloggers on company computer devices.
Can I customize what Spyrix monitors?
Absolutely, Spyrix offers customization options that allow you to select which activities and data points you want to monitor. This ensures that you focus on the aspects that matter most to you.
How often is data updated on the Spyrix dashboard?
The data collected by Spyrix is updated in real-time on the user's online dashboard. This ensures that users have access to the latest information about monitored activities.
How does the remote control feature work?
The remote control feature allows authorized users to execute commands on a monitored device from a remote admin panel. This is particularly useful for technical support and troubleshooting purposes.
How does Spyrix ensure user privacy?
Spyrix is designed to respect user privacy while providing monitoring capabilities. It focuses on collecting relevant data related to the intended purpose, such as productivity improvement or child safety. It's crucial to use Spyrix responsibly and inform users of its presence on their devices.