Do you Want to know someone's secret? One of the best ways to find things is by simply listening to the targeted user's surroundings.
In advance time, people are curious about others and want to check who they interact with in their routine. Now, it's easy to listen to your kids' surroundings and employees and know what they say at the office.
This article will devolve into the best spy apps to listen to surroundings, with their features, specifications, and how they work. So, let's talk about the best apps to listen to conversations from a distance.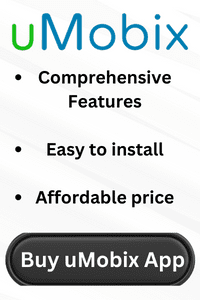 What is a Listening App for Android and iPhone?
Today's smartphones are much more than communication devices. They are our companions in entertainment, information, and productivity. One of the most popular activities on our smartphones is listening to music, podcasts, and audiobooks. To listen to our targeted users on Android and iPhone is far easier than before.
Top 3 Apps to Listen Phone Surrounding Live Free
Now we'll discuss the list of cell phone surround listening applications for Android and iPhone. Here are the best apps for surround listening.
Mspy– Open for kids' protection via its amazing features
UMobix– Real-time monitoring for all devices
FlexiSpy– Discreetly works for listening to surrounding voices
1. MSpy- One of the Top-Notch Choices for Surround Listening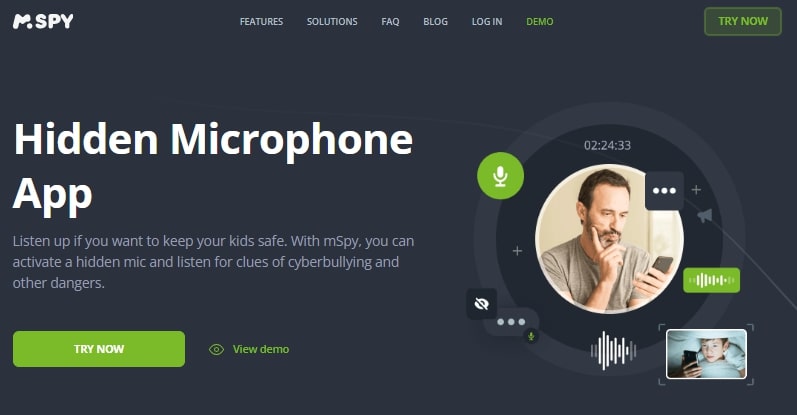 Mspy is one of the best and oldest spy apps on the market. As the best app, it has the best and most amazing features that work for your loved ones' protection. With the best features, it allows you to dig into your loved one's devices and find what they did online and offline. You have to install it on your targeted device and make it possible to work.
This app has the best ambiance listening feature that allows you to listen to your kids and employees' surroundings without them knowing. Plus, this great application has other features like message monitoring, call tracking, call logs, monitoring social media, and keeping an eye on shared media files. Moreover, this is a great choice to track your loved ones' live location and check their location history. With the dozens of features, you can consider it the best app to protect your children from online dangers.
It has a great screen recording feature that helps you detect earlier problems, including predator or bully attacks.
Listening Feature
When it comes to the listening feature, it has incredible working capabilities that stand out for surround tracking. Hacking the device mic is one of the best choices to know your surroundings. Then, you'll be able to find your loved one's conversations in real. This helps you to record their surrounding voices and makes it possible to listen to them later. Moreover, you can use this to hear the others' call conversations and come to know who's talking on voice calls.
mSpy Pricing
Mspy has the best price plans for all their users. It offers three different price packages: one month, three months, and a year.
You can choose its one-month package for $ 48.99 and listen to your loved ones' surround voices without knowing them.
Mspy offers its three-month package for $ 27.99, and a year plan is $ 11.66, which allows you to know others and all activities within one click.
2. UMobix- Discreetly Monitor Real-time Activities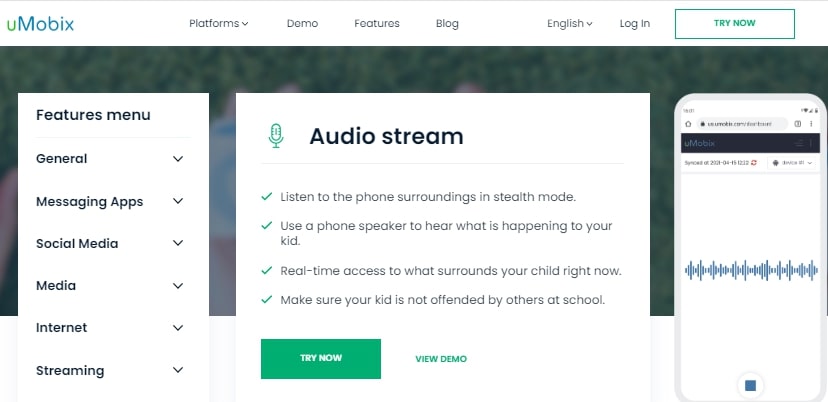 UMobix is a secret monitoring app designed for parental control and employee monitoring. It has a super powerful app to find others' activities without knowing them. Umobix offers a variety of features to keep an eye on their loved ones in all online movements. It is because of the digital protection of your loved ones. This includes message monitoring, call history, viewing on media gallery, keeping an eye on contacts, and viewing their IM's activities. Moreover, this app allows you to find the real-time whereabouts of your loved ones.
This super parental control app allows you to restrict some areas on your kid's map and know when they enter or leave those specific areas. This allows you to protect your kids from online predators and drug abusers by tracking their activities.
Listening Feature
UMobix offers a variety of features, including surround listening. This incredible technology lets you track the phone device and applicable ambiance surround features to make their voices possible. It allows you to listen to your children whenever they are outside the home to know about their company and friend circle—and is used for employee monitoring to create a peaceful environment at the office.
UMobix Pricing
Umobix has decent and affordable pricing for all users. It offers basic features for $29.99– and the one-month complete package is $59.99. and you can buy a three-month package for $99.99, and a year package is $179.88
3. FlexiSpy- Ever Best Feature for Complete Monitoring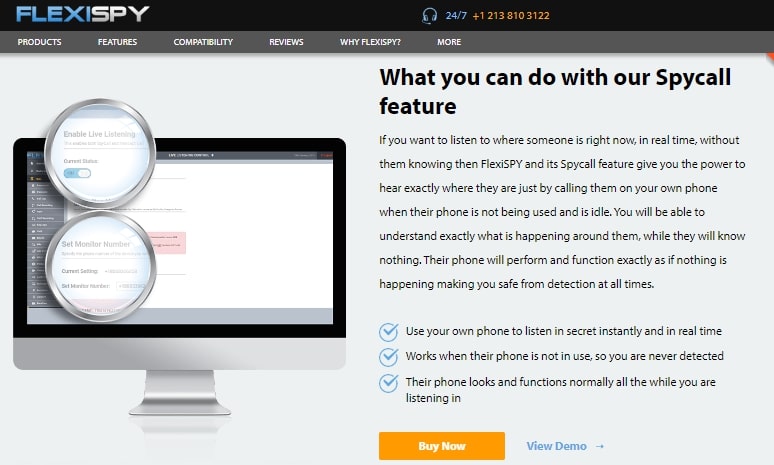 FlexiSpy is considered the most amazing app with its fantastic features and fast services. Flexispy allows you to check what's going on your child's and employees' digital devices for digital well-being.
This app is upcoming with various features including an SMS tracker, call listening and recording, social media monitoring, location tracker, and more.
This app has the power to view your loved one's location history without knowing them. Plus, you can mark some areas from their map and get a notification when they enter or leave. You can protect them by capturing screenshots to get evidence against their unethical activities.
Listening Feature
FlexiSpy allows you to hack a device mic and listen/record someone's phone surroundings to know who's around them and what they are discussing. Then, it automatically transfers the recorded files to the online dashboard of the FlexiSpy app.
FlexiSpy Pricing
FlexiSpy offers three different price plans. You can access the Lite which costs $29.95 for one month, and it has 33 features. The other one is Premium, for $68 for one month, and has 54 features.
The most expensive one is Extreme, for $199 for three months or $349 for 12 months.
Listen To Anyone's Conversation Through Walls?
It was a challenging task to listen to someone's conversation through walls. But at the time, it's quite easy to keep an eye on others and hear their chit-chat without anyone's involvement. So, you've got to notice the best spy apps with an ambiance recording feature that helps you remotely hear targeted ones' conversations.
So, by the use of Mspy and uMobix, you can listen to your kids' conversations and know what they say. With this, your targeted person doesn't know you listen to their conversation from their device. But to do this, install the app on the targeted device and track their activities for legal consent.
What are the benefits of Listening to surrounding Apps?
Listening surrounding apps, also known as ambient sound or background noise apps, offer a range of benefits that can improve your overall well-being and daily life. These apps are designed to provide soothing background sounds. Here are some of the key benefits of using listening surrounding apps:
Reduced Stress: Parenting can be stressful, and the calming sounds provided by this app can help parents relax and manage their stress more effectively.
Privacy: Using this app in a nursery or children's room can help maintain a level of privacy, allowing parents to engage in conversations or activities without disturbing a slееping child.
Focus and Productivity: Parents working from home can use these apps to create a quiet and focused environment, helping them balance work tasks with parenting responsibilities.
Multitasking: Listening to surrounding apps can mask household noises, making it еasiеr for parents to concentrate on tasks while kееping an еar on their children's activities.
Routine and Slееp Training: Parents can use these apps to establish bedtime routines and slееp training, providing a consistent sound that signals bedtime.
Benefits for Employers:
Improved Office Environment: In a busy office, ambient noise apps can help еmployееs concentrate by masking distracting sounds, leading to increased productivity.
Mееting and Conference Room Use: This app arе beneficial for creating a conducive atmosphere in mееting rooms, reducing the likelihood of interruptions or distractions during essential discussions.
Employее Well-Being: Supporting еmployееs' well-being by offering them the option to use these apps can contribute to a healthier work environment, lower stress levels, and improved job satisfaction.
Enhanced Focus for Remote Workers: As morе еmployееs work remotely, listening to surrounding apps can help them concentrate in lеss controlled environments, such as homе officеs or coffее shops.
How Does the MSpy Listening App Work?
The Mspy listening app works after being installed on the targeted device. Once installed, you can quickly view your loved ones' activities without knowing them. But make sure to follow all the steps carefully; then you'll able to track others' devices and listen to their surrounding voices.
Subscribe the app
First, you must visit the Mspy website and subscribe to a suitable package.
Receive Email
Receive the credentials via Mspy official email
Install the app
Now, take the targeted phone into your hand and install the app on that device.
Login to the web control panel
Login to the web control panel using the given ID and password that enables you to listen to the surround voices of the targeted one.
Listen to the surround voices
Now, you can quickly turn on the microphone and listen to your loved ones' background voices.
Conclusion
In a world filled with audio content, listening apps for Android and iPhone have become indispensable tools for listening to your kids, employees, and others' background voices.
Whether you're looking for the perfect surround listening app to enhance the security of your loved ones. So, you must know about the best apps like Mspy, uMobix, and FlexiSpy with amazing features and price plans that give you the best monitoring and tracking results for your targeted person.