EvaSpy monitoring and tracking app that gives you access to all data and online activities on your targeted phone. It lets you know about messages, calls, location, browsing, social media performance, and live screen activities via screen recording and more on one-time installation.
Is EvaSpy a legal app? How does it work? How is it beneficial for you? How does it protect your loved ones? What are its pricing and features?
So, please keep reading this information secureteen review to find out everything you need to know about EvaSpy in this detailed review.
What is the EvaSpy App?
EvaSpy is a Spying app available for all concerned users. It works through its excellent monitoring feature list that allows secret viewing of other's phone activities. It provides easy installation. Moreover, it can monitor all activities on your targeted device, calls and messages to location, social media, the internet, and more.
EvaSpy is a parental control and partner monitoring solution. It can spy on your targeted person and check whatever they do online. It remotely captures device data and transfers it to the EvaSpy web control panel.
Once installed on a targeted device, you can remotely and secretly view information about that device. By this, you can check the current and recent location and all locations history they visited. You can also see the most-visited websites, messages, contact lists, and call logs.

Like other phone monitoring apps, it also requires the priority of installing the app. This app does not allow users to install it for any illegal purpose. Therefore you have to be clear it is only used for cheated partners, kids' protection, and employee monitoring to track suspicious activities.
| | |
| --- | --- |
| Specifications | Remarks |
| Free trials | No |
| Refund policy | 14 days money back |
| Supported devices | Android + Windows/Laptop |
| Prices | Starting from $38.95 |
| Demo | Yes |
| Overall rating | 7.4 |
Who's the Best alternate of EvaSpy: Understanding the Need for Alternatives
While EvaSpy is undoubtedly a powerful monitoring tool, different users have different priorities. Whether you're a parent seeking to protect your child's online experience or an employer aiming to ensure optimal productivity, alternatives like Eyezy can offer specialized features that might better suit your goals.
Eyezy offers advantages that might resonate with certain users. The real-time monitoring and content filtering capabilities of Eyezy can be particularly appealing to parents who want to actively engage in their child's online activities.
why we recommend Eyezy, The basic reason is the comprehensive and user-demanding Features mentioned here.
Real-Time Monitoring
Content Filtering
Cross-Device Compatibility
Live screen recording

Basic Overview of EvaSpy and Eyezy
| | | |
| --- | --- | --- |
| Overview | EvaSpy | Eyezy |
| Demo | ✓ | ✓ |
| Live Screen Recording | ✕ | ✓ |
| Browsing History | ✕ | ✓ |
| Compatible for ioS | ✕ | ✓ |
| Keylogger | ✕ | ✓ |
| Monitor Deleted Messages | ✕ | ✓ |
| Content Filtering | ✕ | ✓ |
| GPS location tracker | ✓ | ✓ |
| Geofencing | ✓ | ✓ |

What are EvaSpy advantages?
EvaSpy allows users to track anyone's online information and get to know about their loved ones for their safety. By this; You can get remote access to all data and online activities from the targeted device on which you have installed EvaSpy.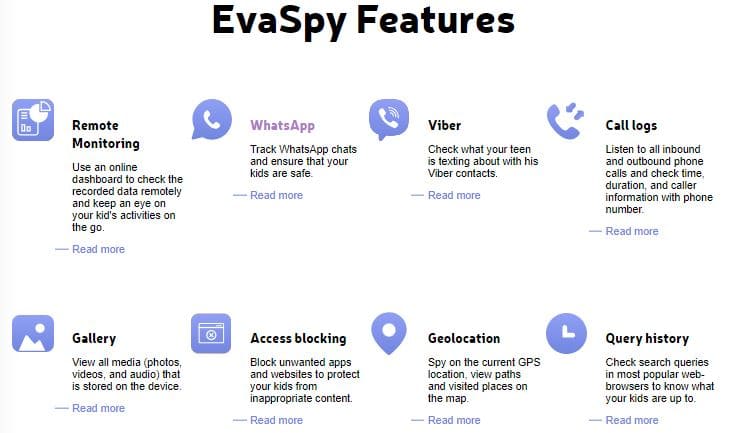 Here are some advantages of installing the EvaSpy app:
Read messages, all sent or received, and get to know all deleted chats from the targeted device.
Listen to call conversations from a mile away, including social media calls.
Monitor call details, including incoming and outgoing, missed calls, received calls, and call duration.
Spy on the contact list, including all callers' names and phone numbers.
Monitor internet browsing history, including most visited websites.
Track GPS location history and recent locations, and monitor all social media activity including, chats, calls, shared multimedia, and more.
EvaSpy provides the best monitoring and tracking results without knowing the targeted person. Moreover, this app offers all monitoring results without showing the app icon on the targeted device.
| | |
| --- | --- |
| Pros | Cons |
| It is Easy to use | No free trial |
| Affordable App | GPS Location Tracker does not work properly |
| It gives you a free app demo | Limited Features |
| Better Customer support services | Not compatible with iOS |
| Not Root Required | |
Let's discuss Some basic EvaSpy Features
EvaSpy Provides the Better Spying features, you need to know before installing.
Real-Time Updates
With the help of Evaspy, you get real-time activity updates of your loved ones. It provides you with an alert notification after a few minutes. It tracks and monitors the device activity and sends it to the web control panel, where you can secretly view it. This lets you identify your kid's activities and detect any online dangers.
Contacts
EvaSpy gives you a complete report of your child's cell phone contact list. Installing this app lets you remotely see who's added to your kid's contacts. If you find any suspicious and unknown contact. You can remotely block and delete from their device.
Call conversation
Now, knowing who's calling your child and how much time to spend on a specific call is easy. Login to the EvaSpy dashboard and know their call details. Even you can listen to their call conversation. With this, you can take action if your child is calling to any stranger.
Read Text Messages
It gives access to read the targeted person's text messages. You can read the text to your child and what is in the text. Even you can find out if your child is having an unethical conversation with anyone. You can see and take action to stop them.
Access phone gallery
It allows you to access the targeted phone's gallery and check its store data. It enables you to check the photos taken by phone camera and all those received from your friends. In short, this feature allows you to view all phone gallery data, including photos and videos.
View Social Media Activity
You can watch popular social media apps, including Snapchat, Facebook, Instagram, Whatsapp, Valo, Kik, Line, and more. This enables you to read IM's chats, call logs, multimedia files, screen recordings, and everything they perform on these social media platforms.

Check Browsing History
EvaSpy lets you check web browsing history and activities. Thanks to the timestamp feature, you can see what time the person visited each site.
GPS Locations & Tracking History
Where is your child? Where have they been? Are you sure they are at school? If you don't have answers to all these queries, choose this feature that gives you the exact GPS location and location history of the most visited sites. It lets you know your child.
Monitor Other Activity & Data
It lets you review other activities and monitor data. It enables you to check data, including phone calendar apps, app usage time, Wi-Fi network usage, and installed apps.
Keylogger
Installed Evaspy and monitored every keystroke from the device. With this, You can see passwords and usernames, what the person is typing, and what they are typing and even search – and see what they are typing on all apps.
Screen Recording
Now, you can see exactly what your targeted person is doing on their phone. It is only possible with the help of an EvaSpy screen recording feature. It lets you take screenshots or make a short activity video of whatever is running on the phone screen. It records and silently uploads the data on the control panel.
View installed apps
You allow your child to use a cell phone but need the freedom to download all apps. But do you know what kinds of apps they download and use? How much do you spend on those specific apps? If not! Choose our app, check what apps they download, and restrict them from using any suspicious app.
Block apps
If you do not allow your kids to use any inappropriate app, they still use it. So, you can remotely block their access and control over their use. You can log in to the web control panel and stop using them.
Block websites
It lets you about what browse your child with date and time. Suppose they watch any inappropriate porn site. You can manage and block it via login to the app web control panel. Evaspy makes blocking your child's access to any adult website easy. After the block, they cannot access it.
What does EvaSpy cost?
EvaSpy provides three different price packages for all users, according to their needs and demands. It has a minimum to maximum package according to the use of the period.
You can get an App by selecting basic, standard, and pro packages.
Its basic package starts from 15 days at $ 38.95, three months at $ 58.95, and a year plan is $ 98.95
This app provides a standard package for 15 days at $ 49.95, three months for $ 69.95- and the one-year plan is $ 109.95
You can get this app Pro by paying the price for 15 days, $ 59.95, three months, $ 79.95-, and a one-year package is $ 119.95.
You can use this app by subscribing to a package and starting to monitor the targeted device.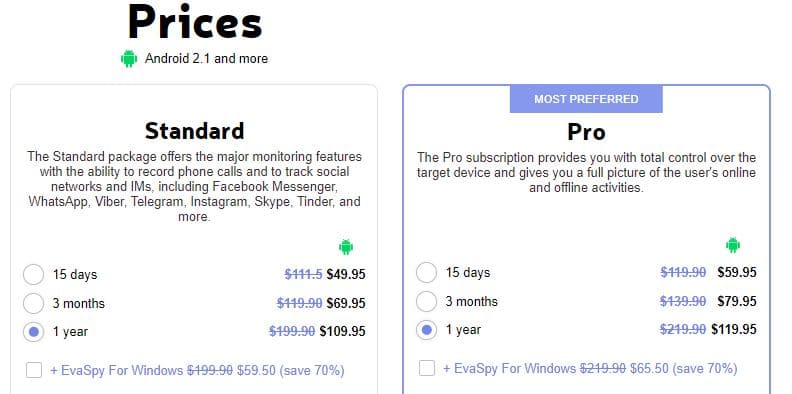 Which Devices are compatible with EvaSpy
It isn't compatible with your targeted devices. It provides its best services for Android, tablets, and Windows devices. In the below, we'll discuss device compatibility in detail.
Windows Compatibility of EvaSpy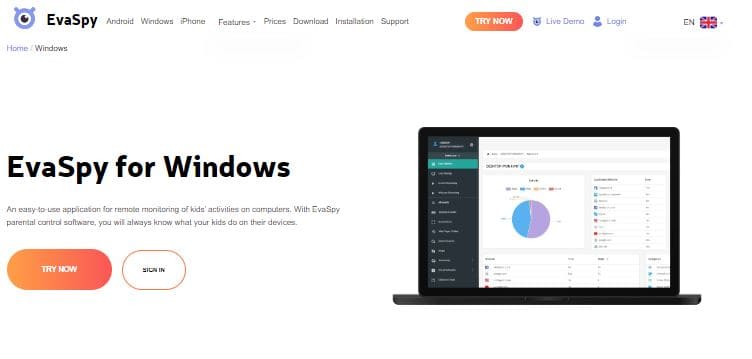 Evaspy Windows compatible is a revolutionary surveillance software that brings advanced monitoring capabilities to the Windows platform. With its seamless compatibility and robust features, this software empowers users to keep a close watch on their surroundings with ease.
EvaSpy is compatible with Windows 7, 8, 8.1, and Windows 10.
EvaSpy Android Compatibility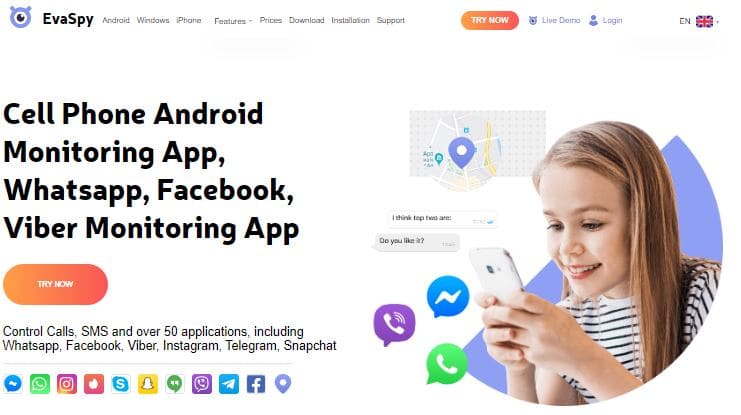 Do you know that Evaspy supports your targeted phone? If not, look at this section. Unique excellent monitoring application enables you to track most Android devices in secret.
Fortunately, it accesses Android OS 2.1 to OS 13. The all-android devices allow you to track all their activities without any hassle. You can use Android Phones and Tablets.
How to install EvaSpy on targeted devices ( Windows / Android)
Installation Guide for EvaSpy on Windows
Installing EvaSpy on a compatible Windows system is a straightforward process that requires minimal technical expertise
Follow these steps:
Download: Visit the official EvaSpy website and download the installation package.
Run Installer: Double-click the downloaded file and follow the on-screen instructions.
Configuration: Configure EvaSpy settings according to your monitoring requirements.
Monitor: Log in to your EvaSpy account from any device to start monitoring.
Installation Guide for EvaSpy on Android
Without installing the app, you cannot track the targeted device and find its online actions. For this, you must get the app installation procedure and check the targeted phone's performance in secret. Therefore, you must pay attention to this section and carefully follow it.
Disable Google Play Protect
In the first step, open the Play Store app from the targeted phone. Click the menu and play protection, turn off> scan devices for security threats.
Download EvaSpy client
Configure EvaSpy client
Access to terms and permission
Please read the user license agreement and accept it
While installing the app prompt to activate administrator right. It will allow features like locking the device screen, setting the lock screen and password, and turning off the camera function. This will secure your device against uninstallation.
Register EvaSpy account
For this step, you can face two options
Already have account
If you already have an account on EvaSpy. Click on I'm already an EvaSpy user.
Create new account
Select the " I'm new " option. And then enter verification information to register. Now check your inbox and verify your email with the confirmation link.
Email Verification
Click on the downloaded APK, install, and follow the screenshots to complete this installation procedure successfully.
Once you download, you can secretly view your loved ones' activities and protect them against any unusual and inappropriate action.
Is EvaSpy Worth to Install?
Suppose you give your kids a cell phone but need to learn about their activities. So, EvaSpy is a great app. But the recommendation is Eyezy with unlimited features to complete your monitoring demands.

I tested this spy app and came to know the final decision. It's best to secure your child from inappropriate activities and give you authentic monitoring results of your loved ones' activity. When you download it, it never roots for your targeted phone and takes a few minutes to accomplish takes a few minutes to complete the whole procedure. If you are a new parent in the spyware world, EvaSpy will help you better than choosing others.
It provides better services to all its users. Users can install this app on their children and others by choosing its most affordable packages. It's 100% worth using. So, you can take this app and install it on the targeted device.
Is EvaSpy Detectable?
Do you need clarification about the app working? It would help if you asked this question before buying any spy app. The spy app pays your amount to provide the best results. Fortunately, EvaSpy will never show the app icon on the targeted device when you set it to hidden mode. It means it monitors the device's activities discreetly and undetectable. No one can identify any spyware on their device. Even while testing the app, I didn't detect any sluggishness on my phone.
So, you can use it easily without any worry. It monitors all results without knowing the targeted person. EvaSpy never detects the targeted device while monitoring.
Is EvaSpy Legit?
After reading the entire detail of EvaSpy, you know it works and allows it to be downloaded for parents and employees with legal consent. Some s will enable users to install without knowing the purpose. But it's wrong; maybe the people use it for malicious approval. It is essential to review the app before purchasing it. Without any doubt, EvaSpy is an excellent Tinder spy app with a comprehensive list of monitoring and tracking features for your loved ones' online safety.
In short, safeguarding your loved ones is the best way to install EvaSpy. With its best working performance, it is a legal app you must install.
Final words
EvaSpy phone monitoring applications with unique features to protect your loved ones. It is designed with the excellent features of social media monitoring, calls, messages, browsing, location, and more. Plus, it provides you with affordable packages after subscribing. In short, this app better choice for kids' protection and your loved ones. It is a legal and undetectable app for online monitoring and safeguarding.
Frequently Asked Questions (FAQs)
Is EvaSpy legal to use?
Yes, EvaSpy can be legally used, but only if you own the device or have explicit consent from the device owner.
Can EvaSpy be detected by the user?
EvaSpy prides itself on its discreet operation. However, tech-savvy users may potentially detect it.
How often does EvaSpy update the tracking information?
EvaSpy provides real-time updates, ensuring you stay current with the device's activities.
Can I monitor multiple devices with one EvaSpy account?
Yes, depending on your subscription plan, you can monitor multiple devices from a single account.
Does EvaSpy run in stealth mode?
Yes, EvaSpy operates discreetly once installed on the target device.
Is remote access secure?
Yes, Evaspy employs robust encryption protocols to secure remote access and data transmission.