UMobix, as the best tracking and monitoring technology provider, aspires to give you authentic information about your targeted person's online actions.
Our spy industry takes steps to protect your children, ensure employees' activities, and monitor spouses without knowing them. The monitoring and tracking app promises to assist you in any digital danger and online trouble by producing features that work. But you've to make a good choice for this purpose. Now don't worry!! We've reviewed the best apps after testing the various spy apps in the market. This post provides you with a detailed uMobix review. With the detail of its features, price, pros and cons. this app is near stand with mSpy and FlexiSpy app.
Now read more and come to know why uMobix is only a good choice and how it works amazingly. Let's read it.
We also covered a detailed review of JJspy and EvaSpy in our recent post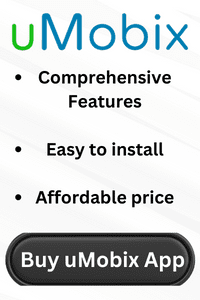 What is UMobix?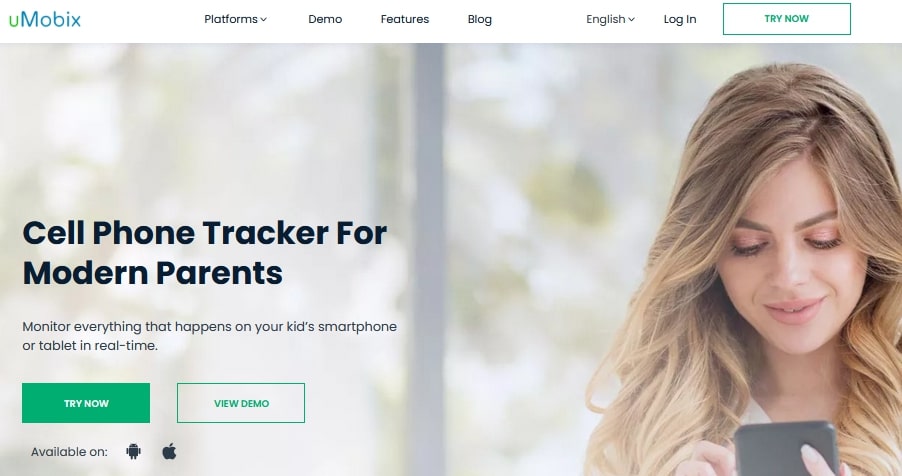 UMobix is a widespread online monitoring and tracking app. It started services in 2020 from London. As known as a newly launched spy company, it gained success and provided the best services to all its users under the same roof. It is a comprehensive monitoring app that takes a few minutes to activate the app.
uMobix is a great app that enables you to monitor your kid's activities, keep an eye on your staff during working hours, and check your partner's phone activities without knowing them. It provides you with a remote control on a targeted device and the ability to alert you when they perform any online activity.
This app allows you to read messages, spy and record call conversations, record ambient sounds, restrict your loved ones from inappropriate apps, and block unwanted websites. In short, you can do anything you wish to do remotely from a targeted device. It gives you a secure web control panel that helps you to view and make changes from your targeted device. Its monitoring features provide you with control over your loved ones to prevent digital dangers.
How Does UMobix Work on the Target Device?
UMobix is monitoring software that works on targeted devices to track their online activities with time stamps. It alerts you when anything happens on your targeted device, and you'll know about it remotely.
But before becoming a user, you need to get physical access to the targeted device and install the app. Then, it works on that machine to provide you with their online activities. It works on the device's invisible mode – meaning no one knows about any spy app and ensures it works without knowing the targeted person. You must install the app by following the UMobix installation guide to complete the process step by step.
Remember: UMobix works on un-rooted devices, and jailbreaking is required to access this software to gain information from anyone's cell phone.
How Much Does UMobix Charge?

As with the other spy apps, uMobix charges different price packages for iOS and Android devices.
The uMobix offers pricing according to the duration, like monthly to yearly. You can subscribe to the package for a limited time to gain the app for all services.
You'll get a one-month full pack for $49.99, a month's full pack by paying $29.99, and a one-year pack for $12.99.
But you cannot get its free trial; users must pay the amount to get this app like monthly services. But it offers you a live demo, where you can see how its dashboard works and how you'll get the device services.
What is the Refund Policy?
You can request a refund if the app does not work according to your needs. They claim to refund your amount within 14 days after purchasing the product. It also mentioned that a refund is only possible with a valid issue, which the team couldn't fix. So, in any case of a problem, you can contact the team, and their customer support team assist you and try to solve this issue. And they explain how to get a refund and whether it applies to your case.
Its refund policy is applicable on one subscription at the same. If you get the app again and apply for a refund in the future, then you've to go through a process and see its refund page rules and policy.
Payment Gateways
The uMobix monitoring and tracking software app accepts traditional payment methods such as:
Visa cards
credit cards
Mastercard
PayPal
Payoneer
Bitcoin
you can transfer the amount as a safe and secure method. After faster payment, you'll get this amazing spy app for your targeted device.
What are the Customer Reviews about UMobix?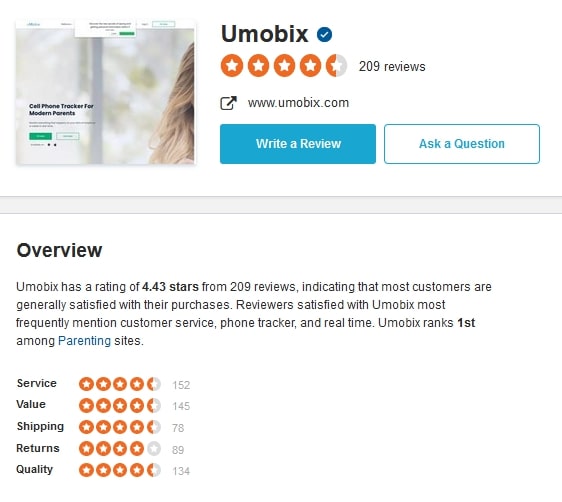 UMobix gained positive and negative reviews from its customers, but it still has solid reviews on popular review sites like Trustpilot and Sitejabber.
On Trustpilot, 68% have given a 5-star rating. On the other Sitejabber, the rating is based on 202 reviews, of which 164 users have given the uMobix app a five-star rating. When we read the feedback from their customer, it was mentioned as an excellent app service rating.
Most people love this app with its excellent services and monitoring technology. Plus, people like to use its features for the online safety of their loved ones.
Most users like its accurate and real-time phone monitoring and say it is the perfect spying solution. With hidden tracking make, online monitoring is more accessible.
Pros and Cons of UMobix
Pros
it enables you to track the most popular social messenger platforms, including dating apps
it provides the best GPS location in real-time on the iPhone
it has the simplest & fastest installation process
its customer support services are superb
it allows you to get remote control over the targeted device
it secretly controls and restricts your kid's app usage and screen time.
CONS
It is a little bit expensive
It cannot monitor Snapchat on iOS devices
It has no geofencing feature
What are the Customer Demanding Features of uMobix?
The best spy app provides you the unique and up-to-date spy features for the betterment of your loved ones. it has almost the all apps that you need for online monitoring and coming to know about your targeted person, and what did they online with time stamps.
Call logs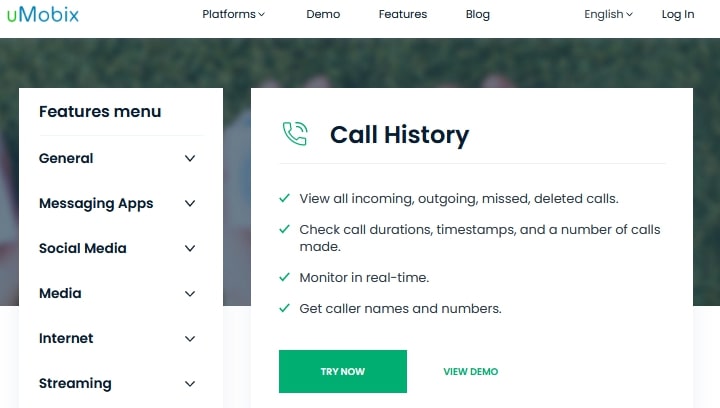 uMobix's call log feature offers you a comprehensive overview of your loved ones' device's call details. With this feature, you'll get complete details of the dial, received, missed, and deleted calls. This provides you with whole information with timestamps that help you know the start, the call duration, and how many times they call a specific number.
With these details, you can determine who the target user calls most and what they talk about. This is perfect for parents who want to keep an eye on their kids and get to know the caller's name and number.
While online protection, simple monitoring is not enough; you have to know about their call details and get the details of who they frequently call and what they talk about. with the contact number, incoming, outgoing, missed calls, and deleted calls.
This allows You to restrict specific contacts from your targeted device, which means your target person couldn't contact them.
Location Tracking UMobix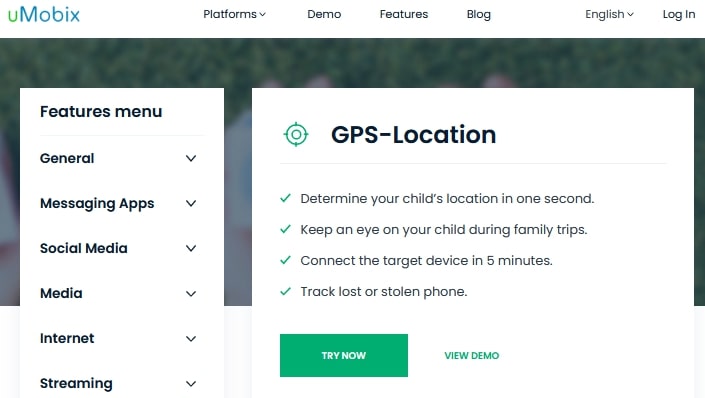 UMobix provides a live location tracker feature that will help you find your loved ones' real-time location. This feature allows you to update the target one's live location 24/7 with the exact area and real timestamp.
You can enable to check nearby areas in this mode to know the venue quickly. This app is about the present location and their previous and last visited location. So, it is impressive to provide the complete details of your targeted person's real-time location and check where they move and where.
After installing umobix on your targeted device, you can remotely know about their social life and check physical movement. In short, this app helps you to detect your loved ones' landmarks. It makes sure you about their digital life and gives you the opportunity to prevent before getting into any trouble.
This super-fast geo-finder feature helps parents check where the kids are, whether at school, club, or a friend's home. So, this is handy to check kids and protect them.
Spy Dating Apps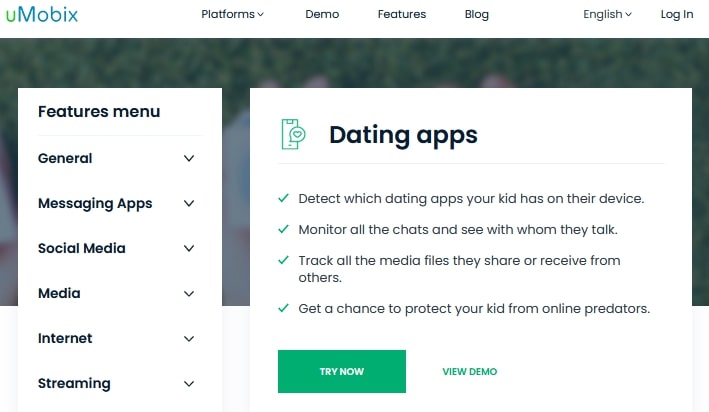 Everyone, including your kids, partners, and employees, uses social messenger apps. But do you know which kind of apps your child gets access to, and you have doubts about your partner and want to catch him red-handed? Use the UMobix app and get to know about the app details of your loved ones. It lets you know about the dating apps your targeted person installed and find a match. Not only this, but it allows you to read their messages and shared media files. Installing this app lets you check their app and know if they have any online dating apps like Tinder. Then, this provides you with detail that enables you to protect kids and catch your partner with proof.
View the Deleted data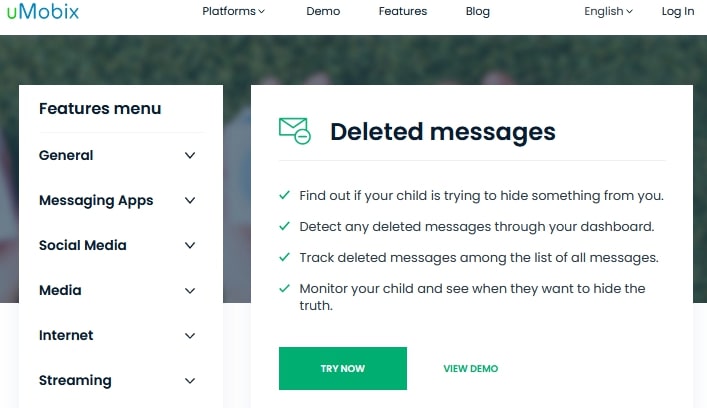 uMobix's most significant advantage is the access to delete data from targeted devices. This is not only spying on current information; it even helps you recover and find deleted data such as calls, messages, calls, and contacts.
It is incredible to find the data if the person is hiding from you; this tells you the evidence. This feature digs into your loved ones' devices and learns more about their online action even if they are removed from their device. You can view their deleted data from your umobix online dashboard as marked deleted. This enables you to view calls, contact numbers, and message details. This is incredible for you to check your kids' activities without knowing and also know what messages and call detail your partner hide from you.
Media Monitoring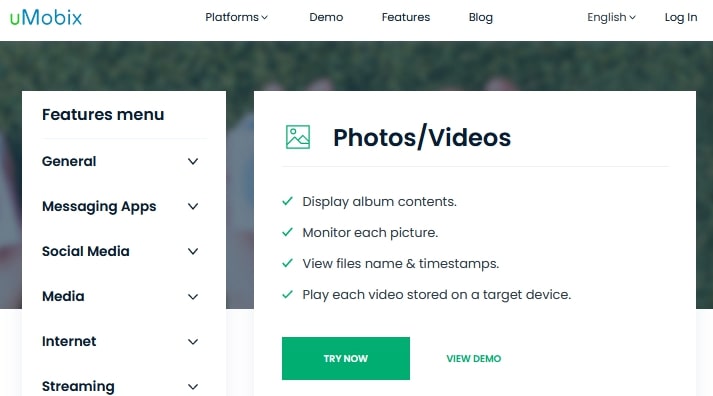 uMobix allows you to check your targeted person's media files from their device. It secretly tracks photos and videos they saved on the target device. With this, you can check their album and view all saved files without knowing them.
Not only can you see the file detail with timestamps, but you also know when they receive files and what source they get this file. So, you can protect your kids if they receive age-inappropriate content from a specific contact. Also, know what your partner shares and to whom.
Ambiance Recorder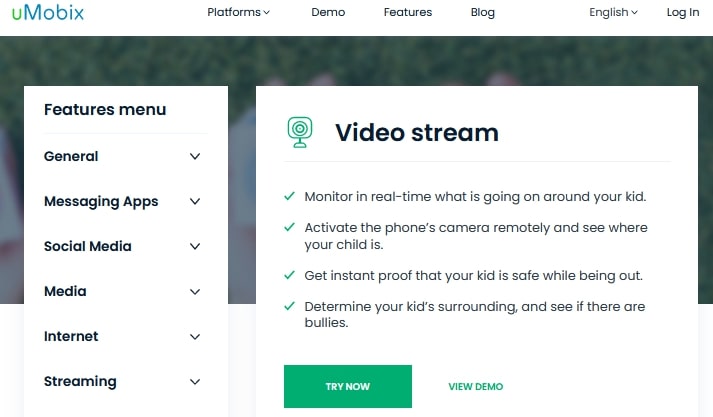 This is one of the most impressive features that allow you to monitor the device's audio and video surroundings remotely. It remotely turns on the device camera and microphone to secretly record the surround sounds of the target person.
You can use this feature to monitor your kids to ensure their friends gather at school and outside. You can also know if your partner suspects them of cheating. The business community benefits from this feature to ensure their team is working well and maintaining office culture. This is not only about recording surround; you can remotely control their camera and take photos of their 360 views from front & back via this app's web control panel. While performing this, there is no worry about app detection; no one can detect uMobix on their device.
Installed App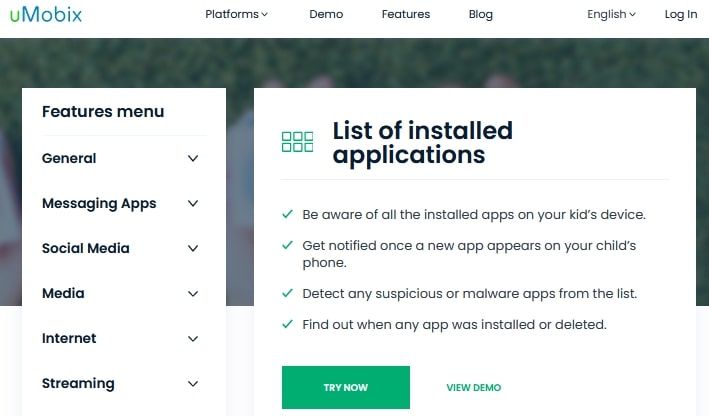 You can see the complete list of installed apps on your target device. You can even download apps your targeted person downloaded and all that were installed by default. And this will also tell you about deleting the age-appropriate apps your kids have.
This is not only about the details of the App that your targeted person uses. Even if you can know how much time they spend on a particular app, you can know about your kids and how much they spend on gaming and other social media apps. By installing uMobix, you can control your child's time usage and restrict any app from their device.
Monitor Keylogger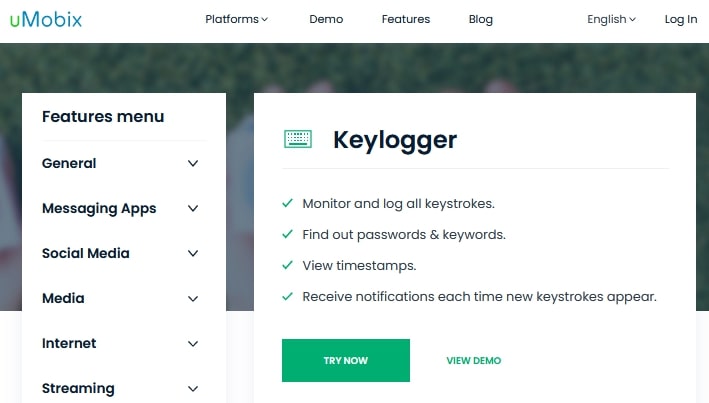 Imagine monitoring everything they click on their device. Use the umobix keylogger feature to spy and watch everything they type on their device. With this, you can see whatever they press to send something or search on their device. This feature lets you know their messages/chats, browsing searches, and everything they typed. When your targeted person clicks on their device keyboard- you can know it from the online dashboard. If your targeted person is typing to send something to anyone, it'll tell you. Even you'll know the device password, messages, and more.
SIM Card Replacement Alert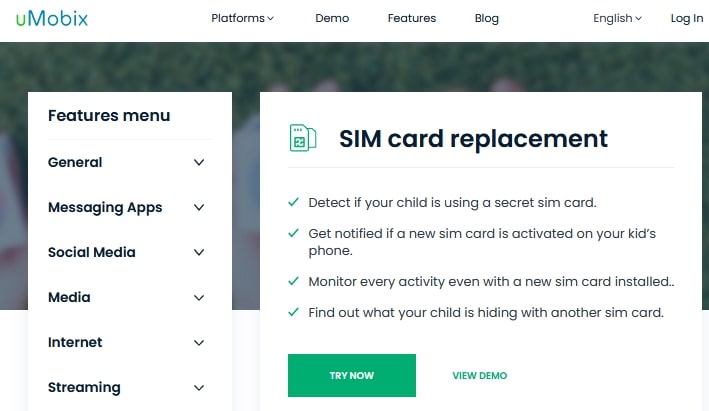 In case your partner cheated, and maybe your kids are hiding something from you and might be an employee malicious. They use the extra SIM card to perform their hidden activities. But now, uMobix provides an excellent opportunity to get an alert when they use a new SIM card on their device.
Remember, the monitoring app is installed on your targeted device, not the SIM card. So, you can detect all activities they performed on their device, even activate a new SIM card on their target device. Then, uMobix will instantly notify you and start monitoring all the activities, including messages, calls, locations, and emails from the new sim card.
No worries, whenever the targeted person changes their sim card, you'll be notified and able to watch the uMobix.
WiFi Blocker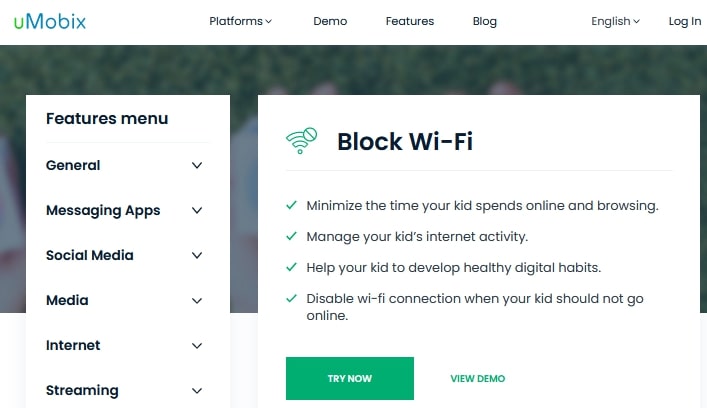 This handy feature of uMobix allows parents to restrict their kids' screen time. If you want your child to spend less time on the internet, you can remotely manage and control their Wi-Fi access. You can use this feature whenever kids' protection is required.
If you have numerous Wi-Fi connections near your home, you can block all of them simultaneously or block some while keeping the others open.
Controlling kids' internet usage is excellent for protecting your child and developing healthy digital habits. This helps them to manage their screen addiction, and also, they can comprehensively perform their academic performance.
This is easy by installing uMobix on your kids' devices to control their safety and overcome screen habits remotely.
Internet Usage Monitoring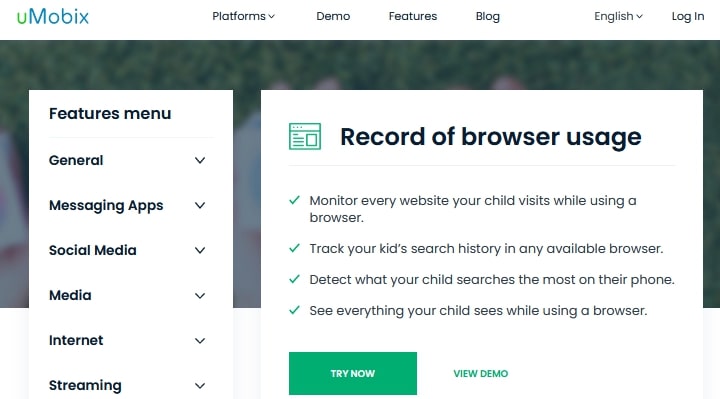 Do you have any idea what your child was doing online while connecting to the internet, what your employees are browsing during working hours, and what your partner watches online? So use uMobix, the fantastic way to dig into the targeted person's internet activities. With this, you can remotely see their web history and check what they take an interest in. This lets you see which websites they visit and how much time they spend. You can even know the web pages they bookmark and save for the future. By tracking their internet, you can view the emails they sent or received using the browser. In short, it's best to see web browser history and check internet performance secretly.
Activity Notification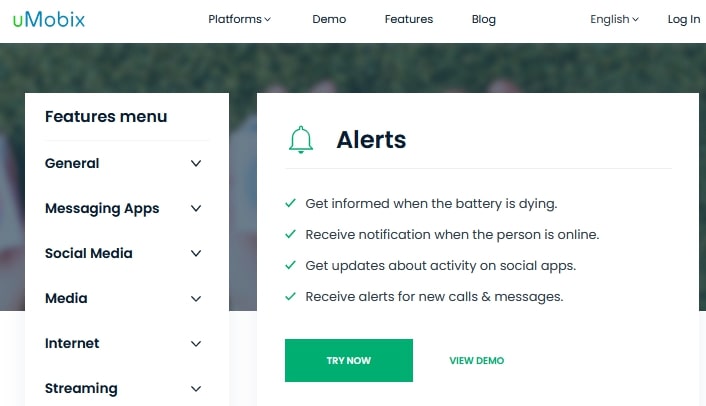 With the busy schedule, no one has time to check every minute activity update of anyone. So, uMobix understands it gives you an alert on every activity and tells you if something happened on the targeted device. Therefore, it provides the best alert notification feature to notify you when something happens from a mile away on that device.
This empowers you to get notifications if your child is using the internet suspiciously and your employees perform maliciously. So, you can take action against them without any delay.
Device Blocking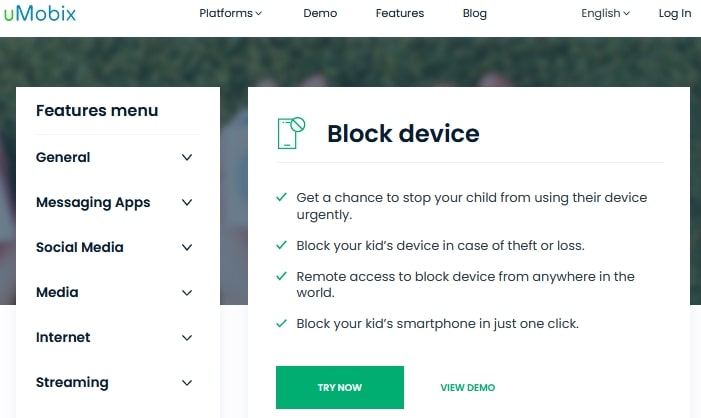 If you want to block your loved ones' access to their device. This feature allows you to restrict their access and not allow them to do anything on their device. This feature is handy and best for parents concerned about their kids' access phone usage and want to control their screen time. While using uMobix, you can control the device by clicking on the tab and blocking access. This feature is helpful for parents to restrict their kids from online danger
Social Media Monitoring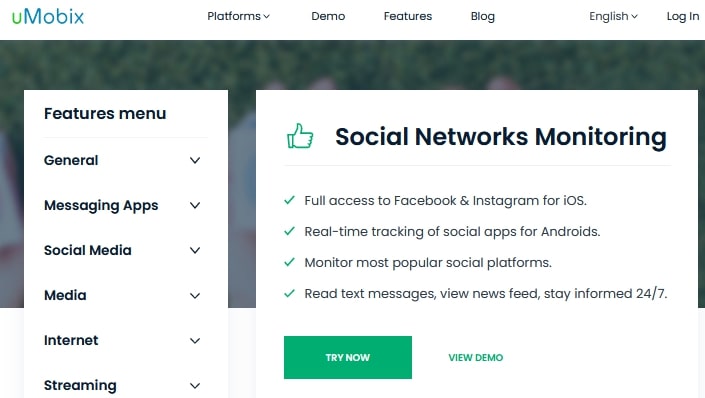 Track your loved one's social media activities with this feature. uMobix lets you track your targeted person's IM messages, calls, shared media files, and more. With this, you can track WhatsApp, Facebook, Snapchat, Instagram, and more. If you are curious about your loved ones' online interactions, use this feature. With this, you know who they chat with and what media files they exchange on popular social messenger apps.
Monitor WhatsApp activities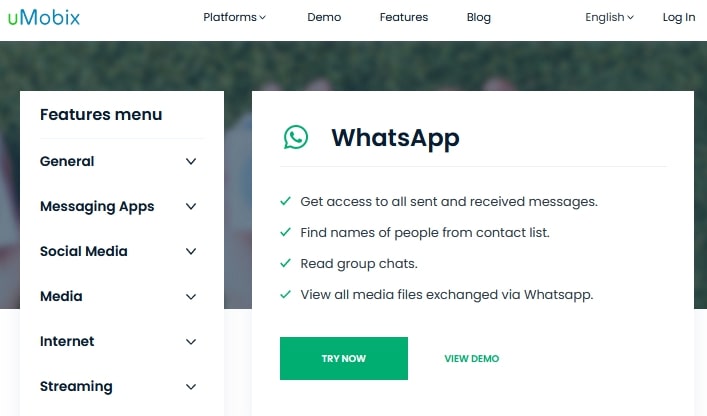 uMobix gives you details about your loved ones WhatsApp activities without knowing them. You can read their sent or received messages, view shared media files, and record their WhatsApp calls. You can view their WhatsApp performances from the umobix online dashboard. Even its keylogger feature helps you to detect their chats, and the screen recording feature provides complete activity reports via short recording. With this, you can monitor your kids and keep a secret eye on your partner's WhatsApp account.
Snapchat Recorder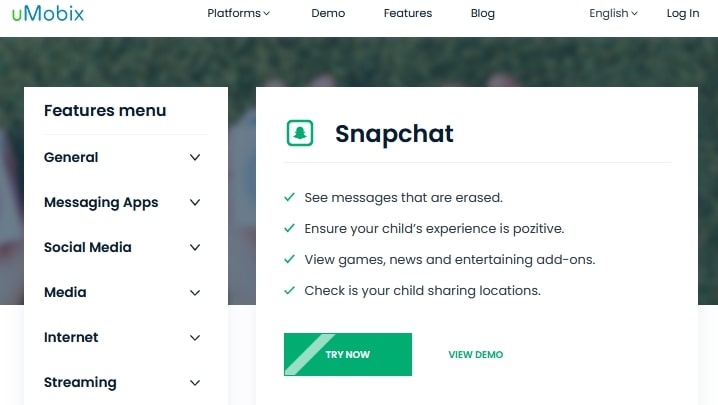 Snapchat is another social media app with unique and attractive features. Most people like to use Snapchat due to its disappearing message feature to continue chat privacy.
But uMobix allows you to capture screenshots and record the chat conversation before it disappears. as you can access and read all the messages that have been deleted. It is not about messages; it notifies you when your loved ones take snaps, and you can surprisingly record the stories and strikes they send or show to their friends on Snapchat. So, recording Snapchat is great for knowing the targeted person's activities.
uMobix Instagram tracker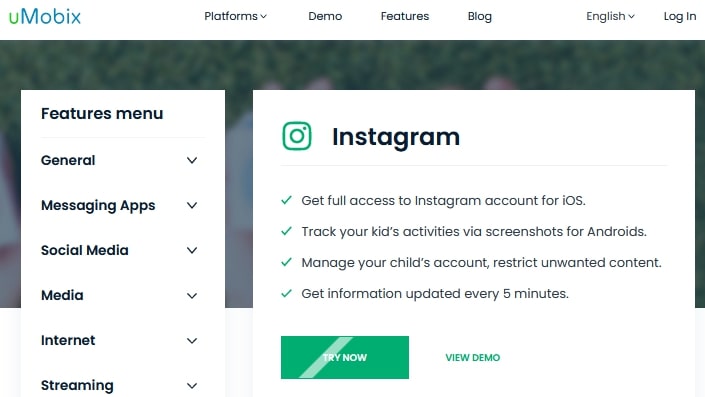 Like WhatsApp and Snapchat, uMobix lets users spy on Instagram secretly and find all their private chats and other activities. It allows you to record and secretly monitor what they post, who they chat and their followers on Instagram with ease.
UMobix Facebook monitoring
uMobix supervises the targeted person's Facebook account with screenshots. So, it's worth it for you to check anyone's FB activities without giving any clue.
Note: we tested all the features, and it works incredibly, as mentioned in this post. You can use this app and enjoy this feature to secure your loved ones.
Does UMobix show the deleted Data?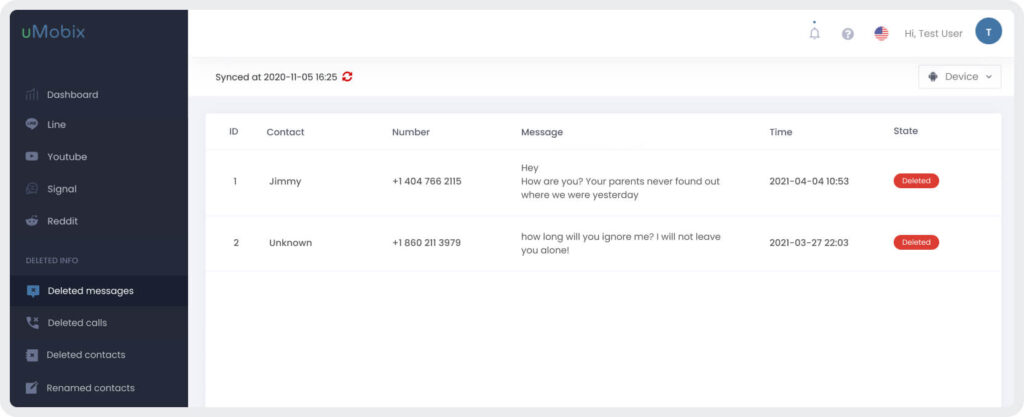 Text conversation is basic and quick access to anyone's. Users can send or receive messages within a second. Now, the statics report defines that more than 5 billion people rely on text messages. So, with this- your children, employees, and spouses can also send messages to others. But with the use of spy apps, you can read their messages secretly and remotely. But those apps couldn't access you to their deleted chats.
By installing uMobix, you can monitor their incoming and outgoing messages, and the most significant advantage is to provide access to deleted text messages/SMS. It highlights the chat that your loved ones deleted from their device; you can secretly read and come to know about their intentions and private conversations to protect them.
What uMobix didn't have?
UMobix provides a real-time location tracker feature, enabling you to know other's physical movements via an online platform. Using its geofencing, you can understand and check their movements for safety. This provides you with the best feature to prevent real-time location. Unfortunately, this app didn't offer any feature that can mark particular areas from your targeted person. This app is still working on this feature to provide you with the best geofencing for your loved ones' safety.
uMobix Compatibility
Imagine wearing jeans without a belt, as it is possible that a cell phone spy app doesn't work on Android and iOS devices.
UMobix is a comprehensive mobile tracking app, which means it is compatible with only Android, iPhones, and tablets. Here's the device's detailed compatibility about its compatibility.
Android operating system
uMobix allows you to track any Android device with version 4 or above. It means you can easily track the older Android devices to the latest versions. This provides the best features to spy on any Android device without knowing the targeted person. You can restrict apps and websites from targeted Android devices without knowing the person for tracking Android devices.
iOS
uMobix supports all iOS devices, which include iPhones and iPads. Unfortunately, users can not get all the features for iOS devices applicable to Android devices. For example, its Snapchat monitoring feature is not working on iOS devices. The reason is that the iOS security system is high and difficult to break. But it provides access to monitor other social media apps like WhatsApp, Facebook, Instagram, and more.
Compared uMobix to other Spy Apps
UMobix is the best option for monitoring your kids, employees, or anyone else. However, some other apps have excellent monitoring services, such as mSpy and FlexiSpy.
UMobix is suitable but only compatible with cell phones and tablet devices. But FlexiSpy monitoring software allows you to track Android, iPhone, Windows, and Mac devices with overall features. UMobix provides a range of quality for Android phones, but iOS provides limited features. For example, it didn't offer Snapchat for iOS devices and didn't allow geo-fencing.
But FlexiSpy and MSPY offer a wide range of features for Android and iOS devices without limit. These apps provide a wide range of features such as geofencing, social media monitoring, and app remote app blocking.
Mspy has parental control features to block inappropriate apps and websites from kids' devices without knowing them. Plus, it gives you a secure web control panel to monitor your loved ones' activities and manage/control their screen time.
FlexiSpy allows you to keep a secret eye on working staff at the office. This empowers you to monitor their web activities and capture keystrokes to know what they typed on the company's computer and mobile devices.
If we compare the prices, FlexiSpy is a little expensive comparatively with uMobix and mSpy app., and if we were talking about customer support services, mSpy FlexiSpy, and uMobix have an excellent customer support team to assist their customers 24/7.
Step-by-step Installation Guide of UMobix
uMobix enables you to monitor your loved ones after following the to set up your uMobix account.
To set up your uMobix account, visit the official website.
1. Pressing the link will automatically take you to the home page of this website. When you reach the website, see TRY IT NOW from the top right corner.
2. After pressing it, you must put your email ID with which you want to register your account. The same Email ID will be required while accessing the uMobix web control portal from where you'll monitor your loved ones' online activities.
3. When you sign up, you'll have to select the device as Android or iOS used by your targeted person.
4. After creating your account and selecting a subscription plan for the uMobix spy app, you will receive an email with the login (username and password), URL, and credentials of your uMobix account with a registration code. The Registration Code is required while installing the app on the target device.
5. Now use the credentials you received in the Email to log in to the uMobix web control portal.
6. After logging in, you will reach a page with many instructions with the Registration code.
Remember this enables you to get physical access to the targeted device before installing the app.
How To Install uMobix On Android Phone?
If you want to install the app on Android devices and you don't know about it. So, this information will help you to make the Android installation possible without hassle.
Disable the Play Protect Option
Before making any changes, you must disable Play Protect from the Google Play Store and allow app installation permission.
1. To disable Play Protect, open the Play Store and click the hamburger icon. After tapping the hamburger icon, choose Play Protect from the main menu.
2. Now, you need to choose the Settings icon. Once you are in Play Protect Settings, turn off Scan apps with Play Protect.
3. You will receive a popup saying, "Turning off app scanning?" click Turn OFF to disable Play Protect successfully.
Steps To Install uMobix On Target Android Device
Please follow the below settings to install the app successfully.
It will take up to 5 minutes.
1. Open any browser on the target Android phone, move to the app installation of uMobix, and copy the link
Then, the downloading will start soon when you reach the download page. If you receive a popup saying, "This type of file can damage your device. Do you want to keep umobix.apk anyway?" press OK to continue.
2. After downloading the file, you may receive an error: "For security purposes, your phone is set to block the installation of apps received from any unknown sources."
3. To fix the error, go to Settings on the Android phone and navigate to Security. Under Security, you will see Device Administration. Here, you need to enable Unknown sources. Doing this is essential because it will help you install the uMobix spy app on the targeted device.
4. Once done, you must go back to the Downloads in the browser and choose the downloaded uMobix file. Now, you will not see any error at this time; installation will begin. Click the INSTALL button.
5. Now the uMobix app is installed on the target device and ready to be Set Up. Tap on Open.
6. Now, you can read the EULA agreement and then press on to AGREE TO THE EULA terms and conditions to proceed further.
7. uMobix will now request your permission to enable its keylogger for Android devices. Press ENABLE KEYLOGGER TRACKING to accept it.
8. After allowing Keylogger, you obtain two options to provide the rest of the permissions: one is using Automatic Setup, while the other is through manual Setup. If you want to give all the authorizations by yourself, in that case, you want to see all the permissions required to be safer, then opt for manual Setup. However, automatic Setup is for you if you need more time and want to complete the installation process ASAP.
If you want to set up the app manually, press on the option "You can set up the application manually here. And if you're going to provide all the permissions automatically, press the Setup Automatically button.
Automatic Setup
1. If you have opted for automatic setup, the app will automatically give some permissions. It will ask you to fill out the captcha to grant the system permission for the uMobix app. After entering the captcha, Activate the consent.
2. after it will ask you to provide screen recording permission. Click on Start Now and then press on ENABLE DISPLAY RECORDING.
3. Ultimately, you have to hide the app and give the registration code you received after creating your account. Lastly, click on Complete Installation.
Manual Setup
If you choose the manual setup, you have to give a lot of permissions by yourself. Here's a step-by-step procedure for the manual installation of the uMobix app.
1. The first permission you have to show is for Automatic Updates. With this, uMobix can update in the background by itself. Click on Allow Updates and enable Allow apps from this source.
2. The subsequent permission you must provide is the Call/SMS block. You can remotely block calls and SMS from the target phone by giving this permission.
3. Now, click "Enhance Stability and Allow" on the pop-up that says "Stop optimizing battery usage?" This permission will allow uMobix to run smoothly in the background without notice.
4. After that, click the Prevent Uninstall button, and on the next screen, press on Activate. This will give admin access to the app, and the target person can't uninstall it.
5. Enable Phone Locking is the permission you need to give to remotely block the target device app and browser.
6. Now hide the app icon before delivering the registration code. Once everything is done, click on Complete Registration.
With this, you have successfully installed the uMobix on the target device and are now ready to monitor your targeted person's digital devices.
FAQs about uMobix Review
Is Umobix legal to use?
uMobix is a legal and legitimate monitoring software. However, the legality depends on the intent, consent, and local surveillance and privacy laws. As you want to secure your kids from online dangers and keep an eye on employees, it is legal.
Can Umobix be detected on the target device?
uMobix is a 100% invisible monitoring app. It works in stealth mode. The software never shows the app icon on the targeted device while processing, making it undetectable. This secrecy guarantees that the user won't suspect any monitoring app on their device.
Is UMobix compatible with iOS and Android devices?
UMobix is fully compatible with iOS and Android devices. It works on Android phones and tablets and iPhones or iPads to track the devices for secret monitoring.
Can Umobix monitor multiple devices?
After subscribing to one package, you can monitor only one device with its features. While monitoring multiple devices, you've to purchase different packages.
Can umobix track Snapchat?
Umobix tracks Snapchat on Android devices. This feature didn't work on iOS devices due to the heavy security system of Apple phones.
Does Umobix work without rooting and jailbreak the device?
Yes, umobix supports un-rooted Android devices and never tries to break the iOS system to install a third-party application. You can directly install uMobix after getting physical access to the targeted device.
Can I use uMobix to Spy on my partner?
Yes, you can use the uMobix spy solution to monitor your partner and come to know about their activities. This helps to catch your cheated partner red-handed.
Conclusion | uMobix Review
UMobix is one of the best and most valuable spy apps in the industry. It has rich tracking and monitoring features like call logs, social media monitoring, keylogger, device block, and internet usage monitoring that works on your devices without knowing the person. It's a 100% undetectable spy app for all users who are concerned and want to know about their loved one's digital life. Plus, it offers an amazing price package with a schedule. Unfortunately, umobix lacks a geo-fencing feature that might launch in the future with amazing tracking services. It gives you demos that help you handle online dashboards and provides a complete activity report. So, use it without any delay to protect your kids, and employees and catch your cheated partner in secret.